Know About best Quran Tutors
What Do You Think About Best Quran Tutors? Want to know How to Hire Best Quran Teacher? Well, I am Here To Explain as I am Providing my services as a Quran Tutor since Last 12 Years. So, I can suggest you Best ways to Hire a Top and Best Quran Tutors. Before Hiring a Quran Teacher, You Must Know About Best Quran Tutors Qualities. So That You Can Find The Best Quran Teacher For Yourself or Your Children Easily. Here I am Going to Share Some Qualities of Best Quran Tutors. So, It Will Be Easy For To hire The Best Quran Tutor:
Qualification;

 

Ask about his/her Education in Islamic Studies.

Certification;

Ask about Certificates he/she has; like Tajweed Certificate, Memorization Certification, Islamic Studies Certificates.

Listen Recitation; Request him/her to Recite some verses from Quran. So that you can suess the Quality of Recitation and Tajweed.
Experience; Ask him/her how long he is teaching Quran? and how many people have learned online from him/her?
Reviews; Nowadays there are many Freelance websites where many Tutors are providing Quran Teaching services Online. So see their Profile and reviews. Also, see the recommendaton of he/she has. Would you like to read Hafiz Faheem Reviews? Click Here
Curriculum; Ask him to show or explain curriculum that what he is going to teach? What are the resources?
Communication; While asking Questions focus on his communication. Especially, when you are going to hire him for Tajweed Lessons, Quranic Arabic and Islamic Studies. Although, just for Quran Reading Language not matter much.
Welcome to "Learn Quran With Accuracy" by Hafiz Faheem. Hafiz Faheem is an Islamic graduate. He graduated from Jamia Darul Uloom Karachi. Also, he completed a Master's degree in Arabic & Islamic Studies from The University of Karachi. Hafiz Faheem is an authorized & certified Quran Teacher from Wifaqul Madaris Al-Arabia Pakistan. Who taught more than 100 international students in online classes.
Currently, he is serving as an Imam at Jama Masjid Shafi Hub. Along with he is providing Quran Teaching services in Freelance Market Places. Due to high turnout of students, He Decided to form a Team of Professional Quran Teachers. Who could provide Quran Education to Muslims kids & adults anywhere in the world. And on a mission to teach people Quran with Tajweed. Now, he and his Teammate Quran Tutors are assisting Hundreds of Muslims Worldwide.
Hafiz Faheem is an expert in the Quranic Tajweed, the Arabic language, and teaches to Hifz Quran also. He has taught Holy Quran to more than 100 students Online from different countries. Such as the USA, UK, Canada, Germany, Sweden, and Australia.
Hafiz Faheem is the founder of the Online Quran Teaching Academy. The mission of our Online Quran Academy is to teach the accurate recitation of the Holy Quran and prayer. We developed a unique method for teaching the Quran. That makes it easier for students to learn and understand the basic concepts of Islam.
Learn Quran with Best Quran tutors
from hafiz faheem academy
Hafiz Faheem Academy is an Online Quran Academy. We have professional and Best Quran Tutors helping hundreds of Muslims around the world. In our Academy, Students can learn Quran from the basic Qaida to advanced level Quran Recitation with Tajweed. Many Quran Readers want to recite Quran in Arabic accents like Makkah – Madinah recitation. Our Best Quran Tutors teach in Arabic accent. Usually, Our Best Quran Tutors follow Sheikh Mahmoud Khalil Al-Hussaray. But we also train students on Saud Ash Shuraym and Sheikh Abdur Rahman Al-Sudais accent.
We Offer Different Courses:
Basic Noorani Qaidah

Nooral Bayan For Arabic Learners

Quran Reading

Tajweed Rules

Hifz – Memorization

Islamic Education For kids

Prayers & Suplications

Quranic Arabic
to kids, adults, beginners, intermediate and advanced level learners.
Online Islamic Education: Hafiz Faheem Academy provides quality education. We teach prayers, 40 Dua, 40 Hadiths, manners, 40 verses with translations to help kids become better Muslims.
Also, we help our students understand the meanings of Quran verses. We also teach basic Arabic grammar to help students understand the Holy Quran. Indeed, Quran is the best source to build relation with Allah. Hafiz Faheem Academy is here for those how are looking to Learn Quran and about Islam anytime – anywhere!
Want to Know more About Quran Tutors? Schedule a meeting Now!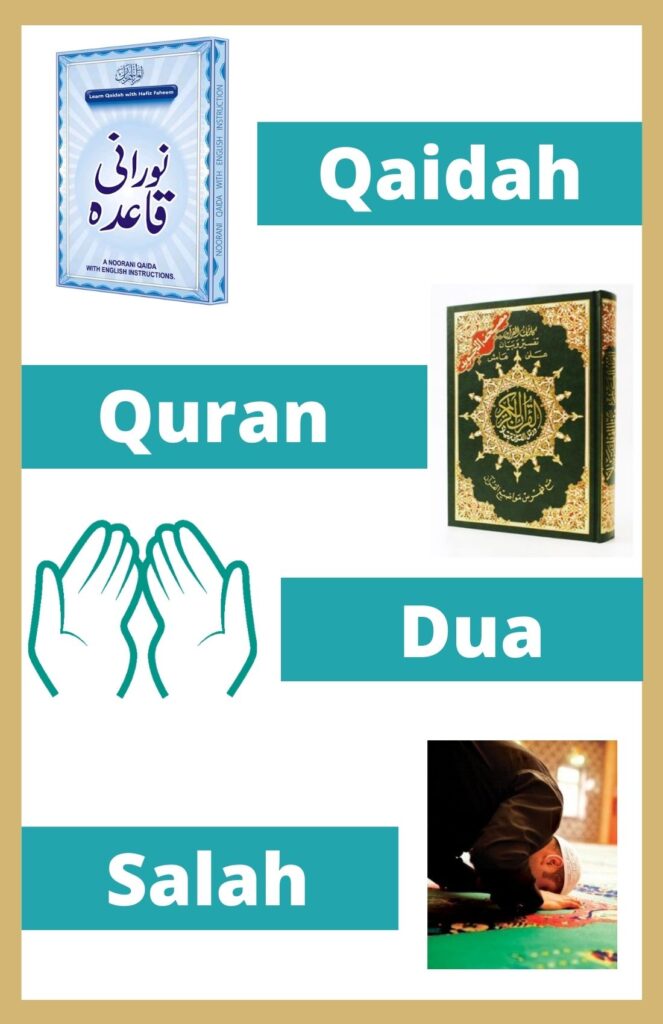 Why you Choose Hafiz Faheem Academy?
Students who learned here
 and become masters in Quran recitation are the main source of our advertisement. Representing the trust they put in us as they refer 
HafizFaheem.com
 to their friends and family. 
Alhamdulillah! Our Online Quran Teaching services are benefitting hundreds of Muslims around the world. Including UK, USA, Canada, Australia, Germany, Switzerland, Dubai and many other countries since 2018.
Qur'an is indeed the table of Allah, so whoever joins this table has peace
Narrated by Al-Darmi and Ibn Al-Mubarak
Being a Muslim Umati it's our responsibility to make it easy for all to learn, read and implement The Quran in our lives. With changing environment Hafiz Faheem Academy stepped forward to conduct Quran classes online. That include Learning Basic Qaida, Quran Reading, Quran Recitation, Quran Tajweed, and Memorizing Quran. In addition, we train students to Recite beautifully. All from the comfort of your home, flexible schedule with a tutor, that is specially dedicated to you.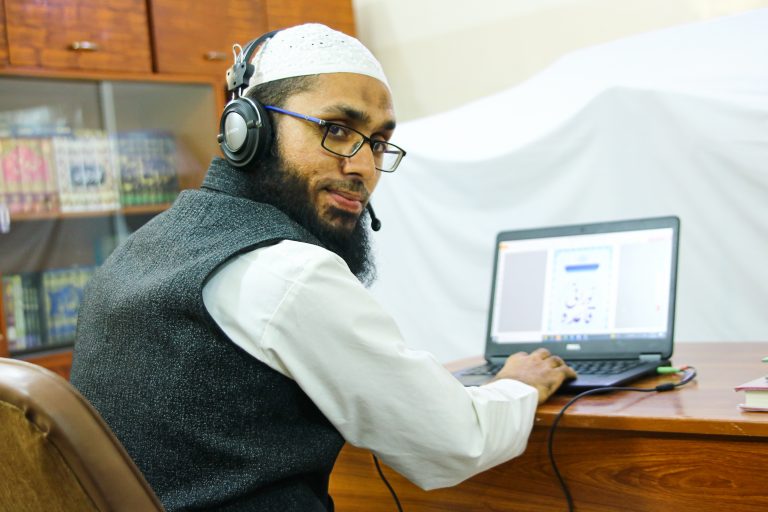 Know our exclusive services
Our Quran Tutors are here to guide you at every step.