Our platform is to learn Quran with Tajweed, understand Quran and improve you recitation skill. We offer Quran Lessons for kids and adults at their homes, schools or wherever they are. Our Courses are mainly designed to learn Quran Online with Tajweed.
Have a look at Our Quran Courses 
Do You Want To Learn Quran With Professional, Experienced & Trusted Quran Tutors? Watch Our Demo Online Quran Classes. InshaAllah! You will Love Learning Quran with us!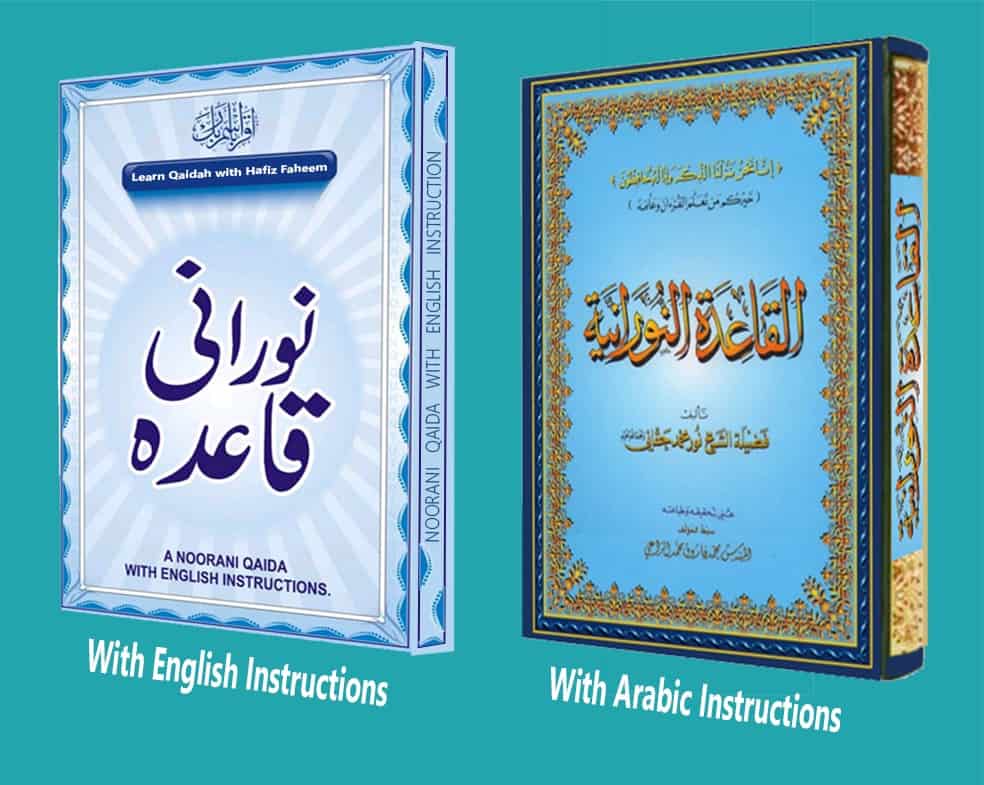 What is noorani qaida book?
The Noorani Qaida is the basic book to learn to read Quran/Arabic. This is the most famous, popular, useful and highly recommended Book for those who want to learn to read the Quran from the very basic. This book is considered as the foundation for learning Qur'an & Arabic. The majority of the Muslims all around the world start their learning reading Quran with this Noorani Qaidah book. We can say this book is the first step towards learning Quran.
Who should learn Noorani Qaida book?
Whether you are Arabs or non-Arabs, if you are new to learn Quran & Arabic reading, it is very important to learn Noorani Qaida book. It is not only important for kids but it is also very useful for adult men and women who want to learn Quran from the beginning. Also if you know how to read Quran but you haven't read it for a long time and you are not able to recognize the movements/harakat and you face difficulty in reading Quran, then you can take full advantage of this Qaida book.
What you will learn in Noorani qaida book?
Arabic Alphabets Proper Pronunciation.

Joint letters

Movements | Harakat – Fatha, Kasrah, Dumma, Tanveen, Huroof ul Madd wal Leen, Sukoon, shaddah

How to connect these movements | harakat? Cpmplete excersize
Reading words leading to the sentences – long verses.
Also we will cover in this course some Basic Tajweed concepts. Such as Bold Letters, light Letters, Qalqala Letters, Huroof ul Madd, Huroof ul Leen, Ghunnah, Ikhfa, idgham,
After completing this book, students can identify & read each word from the Quran.
Students who know how to read Quran words but cannot recite them properly due to a lack of knowledge about tajweed rules.
At this level, students learn about:
✔Recitation of Quran with proper tajweed rules.
✔It also covers Prayer, memorization of the short surah, Duas, basic Islamic studies like wudu, ghusl, etc.
It is for those who want to save the Quran in their hearts and become one of the finest people of Allah.
At this level, students learn about:
Hafiz/memorization of the whole Quran or some specific surah like Surah Yaseen, Mulk, Muzammil, or any other surah on students demand.

Memorization of essential and important Supplications from the Quran.

Recitation/Tilawat  of Quran with Tajweed rules and proper pronunciation.
It will help you understand and connect with Allah and perform well in life's exam on the day of judgement.
At this level, students learn about:
✔Basic Arabic grammar.
✔A solid foundation of the most common vocabulary.
✔Understanding the Quran and what you are reciting in Prayer develops a deeper relationship with Allah.